Maria Montessori (1870-1952), Italian educator and physician, was the first woman in Italy to obtain a medical degree. She was born in Chiaravalle (Ancona) and studied in the University of Rome. She started off as an assistant in the psychiatric clinic of the University of Rome, where she became particularly interested in the education of mentally challenged children and then in the education of all children. She went on to study anthropology and psychology.
The Montessori method stresses the development of initiative and self-reliance by permitting children to do, by themselves, the things that interest them, within acceptable disciplined limits. Montessori insisted that the role of the dominant teacher had to be changed and that students should be given a more active and dynamic role in their learning process. Children had to have liberty to make mistakes so they could learn from them and try again.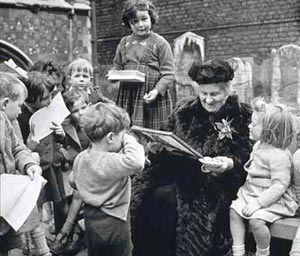 Montessori pointed out that a child should be permitted to find his own solution to problems, so that he would develop new knowledge out of his own experiences; every child sets his own pace and learning rhythm and this must be respected.
In 1907 she founded the first "Casa de Bambini" in Rome. It had simple furniture with geometric shapes and different colors. There also was pedagogic material like hoops, blocks, sticks, paint brushes, colour paint, pencils, etc. This way learning was almost like a game.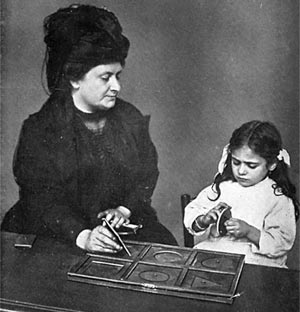 Montessori's method has had global impact. It has proved that it allows children to read and write faster and easier than any other known method. Nowadays, hundreds of Montessori schools around the world use this method that has proved to be so successful.