Montessori material is presented to the children. They then choose the activity they wish to work with, for as long as they wish. They learn as they work instead of listening passively to the teacher.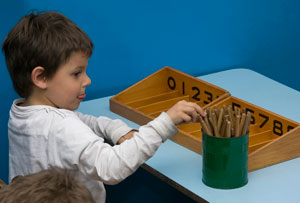 The material is divided into five areas:
Practical life: exercises help motor coordination, order, courtesy and helps the child to become independent.
Sensorial: exercises that stimulate and sharpen senses and help the child learn. Children touch, smell, listen, see, manipulate and investigate.
Math: includes exercises to learn: notions of quantity, classification, combination of symbols and quantities, addition and subtraction. Fractions. Decimal system. Geometrical figures and solids.
Language: activities and exercises to develop language, games to enrich vocabulary (in both languages) and to learn to read and write.
Cultural subjects: material for increasing general knowledge.
There is also an area dedicated to Art, which children can go to whenever they choose to do so. There they find different materials and tools with which they can draw, paint, make collages, model, allow their creativity to unfold.